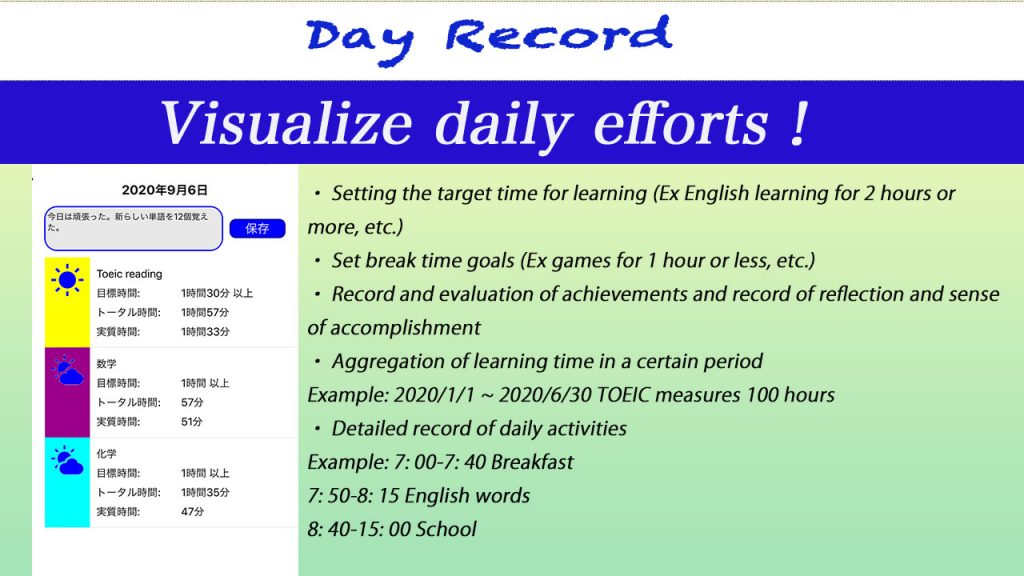 Visualize your daily efforts.
This tool is a tool that we would like students to use, those who are aiming to acquire qualifications, and those who want to review their lifestyle.
In order to achieve your goals by studying for entrance exams and acquiring qualifications, it is important to make simple daily efforts.
For example, in order to get 100 points in TOEIC, there are individual differences from the current level, but there seems to be data that it takes 250 to 500 hours. So, for example, I think that some people are working hard with the goal of working hard for [Reading] for 2 hours and [Listening] for 15 minutes every day.
This tool visualizes this effort and achievements (actual).
In this tool, work and target time to achieve the goal are registered as "tasks".
Before starting the "task", the time is recorded by starting and stopping when the "task" is finished.
Since you can enter the degree of concentration in%, even if you actually worked for 1 hour, if there was an interrupt in the middle or you were not concentrated, you can record it as about 80%. I will.
Also, by leaving a simple comment, you can record your feelings at that time. Visualize the results of daily efforts in 4 stages.
For example, 90% or more of the target time is achieved. 80% to 90% of the target time is achieved. 60% to 80% of the target time is achieved. 60% or less of the target time. This standard can be changed by the user. By visualizing and evaluating the results of daily efforts, we help maintain motivation. In our daily lives, there are some behaviors that prevent us from achieving our goals. For example, I spend most of the day playing games and I don't have time to reach my goal. That is often the case.
With this tool, you can also set the target time of "task" to xx hours or less. By doing this, for example, you can set goals such as "game" within 2 hours a day, and "field work" within 6 hours to improve work efficiency.
The recorded work is recorded as a timetable and can be reviewed later. For example, xx to xx can record what you were doing. Reviewing your daily activities will lead to lifestyle habits.
◆ What you can do with this tool.
Registration / change / deletion of "task"
Setting the target time (or more/ or less)
Registration / change / deletion of "task"
Work record
Set memo and concentration in% when recording work
"Effort evaluation criteria" can be set in 4 stages
Display the results of daily efforts on the calendar in 4 stages
Specify the period (start date, end date) and aggregate the work results during that period
Detailed display of daily activity record